+ r e l e a s e + + + + +
FOR FOREIGNER: You may write your comments in English or Chinese.
<![if !vml]>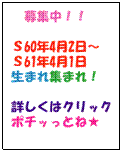 <![endif]>It must be good for us to contact with each other.
I hope you will write your comment on BBS page as the identification you visit here,
You can read more information about this page at the bottom of this page.
最近の更新内容 2004・11・12 アンケート開始 クリック→<![if !vml]>

<![endif]>
お勧め映画情報(Recommend Movies)→<![if !vml]>

<![endif]> <![if !vml]>

<![endif]> <![if !vml]>

<![endif]>
Japanese
こんにちは~!このページ管理人のshoです。このページは自分の考え方が他にとってはどう受け止められるのか、そんな事がずっと気になってて、作ってみたものです。
「release」というのは「解放」「封切」というような意味があり、自分の考え方、意見、感想、価値観、そして今の自分のすべてをこのページで表現できたらと思います。
その自己表現に皆さんからアドバイスがいただけたら、なにかしらの糸口がつかめるかもしれないし、自分自身大きく成長できるかもしれません。そう信じています。
よろしく!!
English
Hi, welcome to my homepage. Thank you for your searching and coming here my page. I will put my diary and essay about my experience in my page and I will contact with you since I want to make friends with many people, not only gay but non-gay guys who understand and accept for gay guys. And also, I want to suggest you my stereotype, for example, in Japan gay guys cannot be friendly with each other in public because of the others' discrimination. How is this in other countries? I am leaning English and Chinese, so I believe I can communicate with so many gay guys in all over the world. Anyway, what I want to say is that you can use also English and Chinese in this page. I will try my best to read comments written in English or Chinese, so please write down anything of your thoughts. I hope you will be my friend. Have fan!
Copyright © 2004 Sho All Rights Reserved. Since Sep.1st.2004